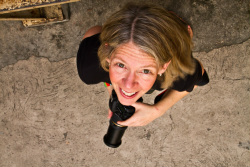 Sally Harris
I took my first photography course while a high school student at Kingswood Cranbrook School in Bloomfield Hills, MI. That summer I was going to live in Norway as an exchange student and my dad had offered to lend me his Pentax to document the experience. I still cherish the photographs from that summer.
I share the passion with my husband Mike. He too has always enjoyed photography, but the passion came when he took a week-long workshop with Eddie Soloway through the Santa Fe Workshops. He came home a changed man. And so we both took the plunge. It has been a wonderful passion to share because it has given us a sense of purpose while exploring the world and experiencing different cultures, people and landscapes.
To date we have taken workshops and/or traveled with Eddie Soloway, Peter Turnley, Jay Maisel, Arthur Meyerson, Nevada Wier, Magdalena Sole and Richard Martin to Venice, Paris, Buenos Aires, Hawaii, Morocco, Cuba, Iceland, the Mississippi Delta and Rockport (Maine). We are both active members of the Stamford Photography Club and show our work locally. Photography has not only introduced us to fascinating places around the world, but to wonderful people who live in those places as well as those who share our passion.
Contact Sally at:
sallyharris@me.com